"Attenti al polverino! E' una fiaba che racconta ai bambini una storia vera e drammatica: la storia dell'amianto, che ha lasciato una scia lunghissima di malattia e morte là dove è stato estratto e lavorato.
Certamente, per rendere consapevoli i bambini di una tragedia come questa non si può ricorrere al linguaggio e agli strumenti utilizzati per i ragazzi più grandi o per gli adulti: da qui la scelta del racconto fantastico, della fiaba" – tratto da Attenti al Polverino – di Assunta prato
Clicca sull'immagine qui sotto per scaricare il racconto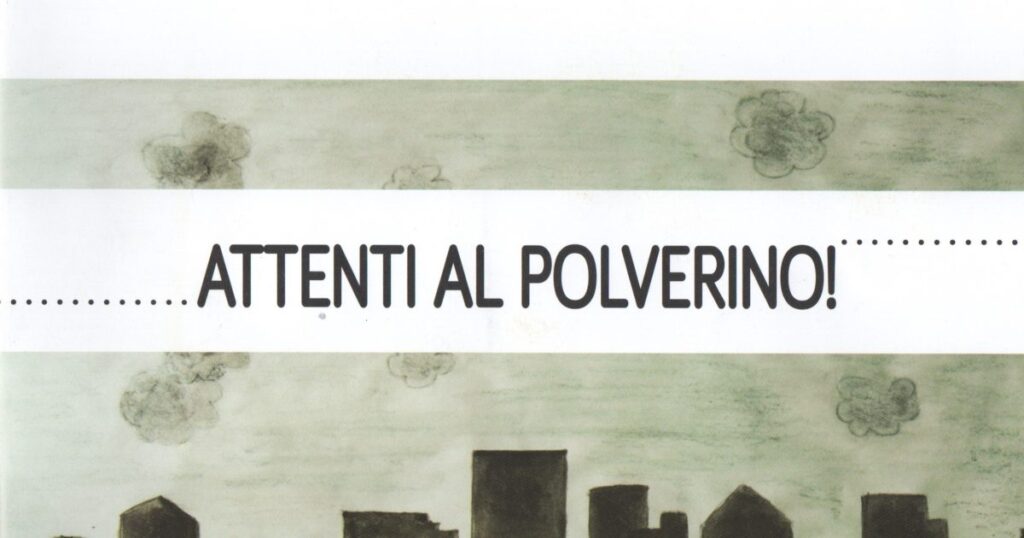 ---
'Attenti al polverino' versione inglese
Grazie alla maestra Claudia Andreaus, insegnante di inglese della scuola primaria del Sacro Cuore, per la traduzione in inglese, presentata dai ragazzi della classe 4′ alla XXIX edizione del 'Concorso Guglielmo Cavali – La salute e l'ambiente'.
BEWARE OF "DUSTY"
ONCE UPON A TIME, IN A NOT SO FAR AWAY LAND, LIVED A VERY RICH
MAN CALLED SILVER DE L'ARGENTIER.
IN ONE OF HIS TRIPS, HE DISCOVERED A CAVE FULL OF LIGHT GREY DUST
THAT MADE IT POSSIBLE TO PRODUCE USEFUL OBJECTS: ROOFS, TUBES,
CHAIRS, CLOTHES.
SILVER DE L'ARGENTIER PASSED BY LOOKATTHEAIR, A VILLAGE BETWEEN
THE HILLS AND THE RIVER, AND DECIDED TO BUILD A FACTORY TO MAKE
A LOT OF OBJECTS WITH THE GREY DUST.
THE DUST WAS MAGIC: IT DIDN'T BURN IN THE FIRE, IT FLEW IN THE AIR
FOR DAYS AND AFTER IT SETTLED ON EVERYTHING…
…ON ROOFS, ON FIELDS, ON LETTUCE AND TOMATOES, ON STREETS, ON
PEOPLE AND ON MORTADELLA SANDWICHES. IT WAS NICE TO SEE THE
DUST DANCING.
ONE DAY, A BOY CALLED PETER, WHO LIVED IN LOOKATTHEAIR, PICKED
UP A LITTLE BIT OF DUST TO MAKE A TRACK FOR MARBLES TO PLAY ON
WITH HIS FRIENDS. EVERYONE WAS AMAZED WHEN SILVER COINS CAME
OUT OF PETER'S POCKETS.
PETER'S GRANDFATHER, WHO WAS RETIRED, WENT TO COLLECT THE
DUST THE NEXT DAY WITH A DUSTPAN AND A SPADE AND FOUND HIS
POCKETS FULL OF SILVER COINS AND SAID TO HIS WIFE: "NO MORE
PASTA AND BEANS! FROM TODAY ONLY ROAST, HAM, CHOCOLATE
AND SPARKLING WINE!"
IN THE TOWN EVERYBODY STARTED COLLECTING THE DUST. IF THEY PUT
THE DUST IN THE YARD THE CHILDREN WOULDN'T HURT THEIR KNEES
WHEN THEY FELL. THE MORE THE PEOPLE USED THE DUST, THE RICHER
SILVER DE L'ARGENTIER BECAME. NOBODY COULD EXPLAIN IT!
SILVER DE L'ARGENTIER, NOW OLD, GIVES THE TASK TO HIS SON, DORÉ
DE L'ARGENTIER, WHO WANTS TO BECOME EVEN RICHER THAN HIS
FATHER. DORÉ STARTS TO TRAVEL AROUND THE WORLD AND TAKES THE
DUST WHERE IT DOESN'T EXIST YET AND STARTS TO BECOME VERY RICH.
AFTER MANY YEARS, PETER, THE CHILD WHO BUILT THE MARBLE TRACK
WITH THE MAGIC DUST, FELL ILL. HE BEGAN TO COUGH, HIS BACK
ACHED, HE LOST HIS STRENGTH, HE HAD DIFFICULTY BREATHING AND HE
DIED.
ONE BY ONE, THE CHILDREN WHO HAD PLAYED WITH PETER DIED. NO
ONE KNEW WHY. ONE DOCTOR SAID IT WAS BECAUSE OF THE MAGIC
DUST.
WHAT A DRAMATIC SITUATION! WHAT A TRAGEDY! HOW FRIGHTFUL!
ALL THE PEOPLE WHO HAD PLAYED WITH THE DUST WERE AFRAID THEY
WOULD FALL ILL AND DIE.
DORÉ DE L'ARGENTIER FOUND OUT WHAT WAS HAPPENING, BUT HE
DIDN'T STOP: HE TOOK THE DUST WHERE THERE WASN'T ANY YET
WITHOUT THINKING THAT PEOPLE MIGHT DIE.
IN LOOKATTHEAIR MANY PEOPLE FELL ILL LIKE PETER. EVERYONE WAS
WORRIED. EVERYONE WAS IN DANGER. THE CITIZENS OF LOOKATTHEAIR
PASSED A LAW AGAINST MAGIC DUST:
1) THE DUST WAS TO BE REMOVED FROM THE CITY.
2) PEOPLE WHO FELL ILL WERE TO BE HELPED AND CURED.
3) WHOEVER GAVE THE DUST, MUST REPAIR THE DAMAGE. THREE
GROUPS WERE CREATED IN LOOKATTHEAIR:
THE "DUSTER" GROUP FORMED BY THOSE WHO ARMED WITH
MASKS, VACUUM CLEANERS AND SACKS WOULD GO THROUGH
THE CITY TO CLEAN IT FROM THE MAGIC DUST.
THE "EINSTEIN" GROUP FORMED BY DOCTORS AND SCIENTISTS
WHO WOULD STUDY HOW TO CURE THE DISEASE.
THE "ROBIN HOOD" GROUP FORMED BY THOSE WHO WOULD GO
AROUND THE WORLD LOOKING FOR DORÉ DE L'ARGENTIER AND
HIS TREASURE.
THE "DUSTER" GROUP HAD A LOT OF WORK: MAGIC DUST WAS
EVERYWHERE! IT WAS IMPOSSIBILE TO REMOVE IT ALL… THE
"EINSTEIN" GROUP LOCKED THEMSELVES IN THE LABORATORIES,
BUT FINDING A CURE WAS VERY DIFFICULT AND VERY EXPENSIVE….
THE GROUP "ROBIN HOOD" TRAVELLED ALL OVER THE WORLD
AND FINALLY FOUND DORÉ DE L'ARGENTIER'S TREASURE.
THE MONEY FOUND BY THE GROUP "ROBIN HOOD" HELPED THE
OTHER GROUPS TO FINISH THEIR WORK.
THE "EINSTEIN" GROUP PERFORMED MORE DIFFICULT AND
EXPENSIVE EXPERIMENTS AND AFTER A FEW MONTHS THEY FINALLY
FOUND A CURE FOR THE DUST DISEASE. AS SOON AS A PERSON
STARTED TO HAVE SYMPTOMS, THEY WENT TO THE DOCTOR WHO
GAVE THEM COLOURED CANDY FOR A MONTH AND THEY WERE
CURED.
FROM THAT DAY ON, THE PEOPLE OF LOOKATTHEAIR COULD
BREATHE PEACEFULLY AND PEOPLE CAME FROM ALL OVER THE
WORLD BECAUSE THE AIR WAS THE CLEANEST IN THE WORLD.
THOSE WHO WANTED TO GET RICH, SUCH AS DORÉ DE
L'ARGENTIER, GOT SCARED. NOBODY SOLD MAGIC DUST
ANYMORE BECAUSE THEY WERE AFRAID OF LOSING THE MONEY
THEY HAD EARNED. NOBODY IN THE WORLD GOT SICK ANYMORE
AND LOOKATTHEAIR BECAME FAMOUS FOR THE ACHIEVMENTS OF
ITS CITIZENS, BOTH ADULTS AND CHILDREN.
THIS IS NOT A FAIRY TALE: THE MAGIC DUST REALLY EXISTS AND
THERE ARE PEOPLE WHO CONTINUE TO WORK WITH IT AND
CHILDREN WHO USE IT TO PLAY WITH. EVEN TODAY THERE ARE
PEOPLE WHO FALL ILL, AS HAPPENED TO PETER AND HIS FRIENDS,
THE "OLD ONES" HAVE DONE A LOT TO CLEAN THE WORLD FROM
THE MAGIC DUST AND FIND A CURE, THE "LITTLE ONES", WHEN
THEY GROW UP, WILL HAVE TO CONTINUE TO SEEK JUSTICE, DO
SCIENTIFIC RESEARCH AND MAKE THE ENVIRONMENT HEALTHY.